About
Premium guitar lessons in your home
Established in 2017, Olicana Music is dedicated to providing premium guitar lessons in and around Ilkley, West Yorkshire.
I firmly believe anyone can learn a musical instrument, no matter their age. By providing one to one guitar lessons in my student's homes I can uniquely tailor my style to meet their specific needs and musical goals while maintaining a relaxed and friendly teaching style.
My lessons are structured so that my students are always working on material in line with what you want to achieve, sprinkling in subjects along the way to help supplement your musical objectives.
I accept students of all ages and abilities. Whether you want to learn your favourite song, complete grades, or write your own music, I'm happy to guide you down the path to achieving your goals at your own pace.
I have an enhanced DBS check and I'm a member of the Musicians Union. For those looking to study grades, I typically work within the Trinity College London Syllabus, but I'm more than willing to adapt to whatever system suits you best.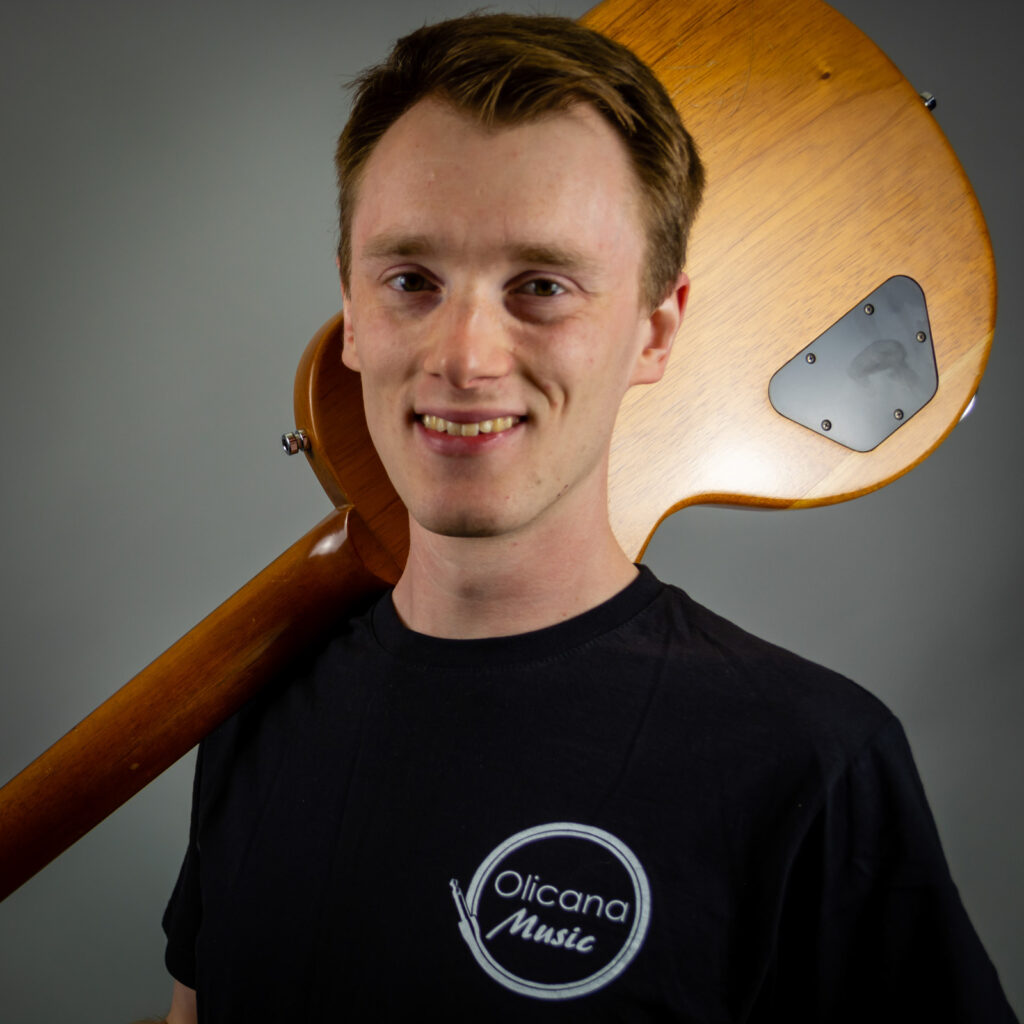 Biography
A little about myself
Since garnering a taste for music in primary school, my guitar has never been far from my side. I've been playing now for most of my life and I'm still as passionate about music as the day I started. Throughout my 20+ years of musicianship, I've played in multiple bands, learned my favourite music, learned music I never thought I would, and written a bit of my own.
However, in more recent years, my personal playing has drifted towards improvisation and the structure behind it. I see music as a language and I find nothing more rewarding than being able to create new and exciting riffs on the fly. This has, in some ways, drawn me back to my roots, with a focus on playing rock and blues, though I've found there isn't a genre of music I don't enjoy playing and each one brings something unique to the table.
For three years I've had the delight of being able to pass my knowledge and passion onto those I teach. It gives me great pleasure to help others down their own musical journey and they've taught me a thing or two in return along the way.
One thing experience has really taught me is that there's simply no correct way to play guitar. You hardly need to look at many professional guitar players to spot the huge variety in the way they play, both musically and technically. This is just one of many reasons why I make my lessons as unique as possible for each student, helping to ensure we find the style of playing that's right for them.
I've taught students from as old as six to as young as sixty. Whatever your goal, I aim to make sure you can play the ideas in your head and create the music you want.
If I have one mission as a teacher, it's to give my students the tools they need to be the best guitar players they can be.
What you could learn
Lagrima – Francisco Tárrega
Here's what my clients have to say
FAQ's
How Long Are Your Lessons?
How long would you like? Normally a 30-minute lesson is appropriate for younger students. For older and more experienced students, an hour is more typical. Longer lessons can be given to cover specific topics or to coach students running band or jam sessions.
How Much Do Your Charge?
Hourly lessons cost £32 or £16 for half an hour. However, if you pay for your lessons in blocks of 10, I offer a 10% discount.
Where Do You Teach?
I teach in each of my student's homes, meaning you can learn to play in a familiar and comfortable environment.
How Far Will You Travel?
I'm based in Ilkley, West Yorkshire but my catchment area covers the Wharfe Valley from Menston to Addingham. If you're outside this area, feel free to get in touch. Under certain circumstances, we might be able to arrange a lesson.
What Is Your Availability?
Lessons are available Monday to Friday between 9am and 8pm. Please get in touch for specific availability.
What Styles Do You Teach?
Whether you want to learn Classical, Blues, or Speed Metal, if there's a guitar involved, I'll teach it. All styles of guitar playing are rooted in the same foundational skills. Beyond that, it's a case of learning the language of the genre. This is backed up by music theory when necessary or if students are interested in learning it alongside their playing.
Do You Use A Syllabus?
I use the Trinity College London syllabus for classical and electric styles. For younger students I usually begin with The Guitarists Way, a beginners guide that prepares them for the Trinity syllabuses.
However, there's no obligation to use a pre-designed syllabus, and many of my students work from a custom design that fits their learning style. It all depends on your goals, how you like to learn, and what kind of music you like. I make a point of teaching students the music they want to learn so that they'll want to pick up their guitar and play.
Do I Need An Electric Guitar?
No, but it does depend on the style of guitar playing you want to learn. Beginners can learn on any kind of guitar, however if you want to learn Rock and Pop music you'll need to consider upgrading to an electric guitar as you progress.